Parts and Accessory Store
Your One-Stop Toyota Parts & Accessory Store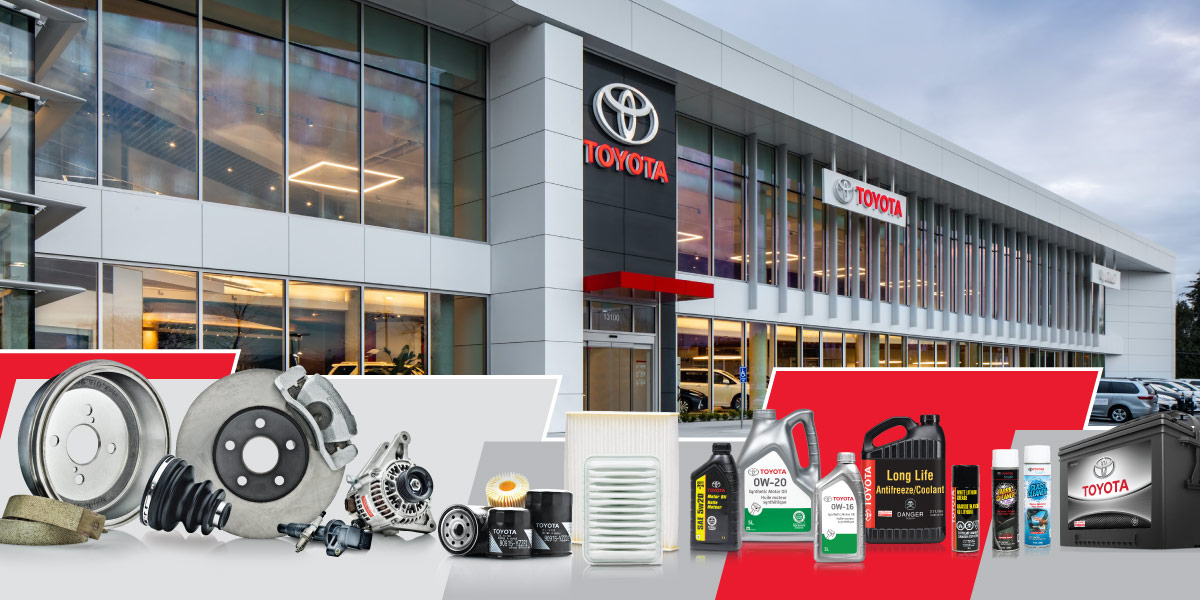 Toyota Genuine Parts are manufactured by Toyota. Each part has to pass the factory standard in order to ensure the safety of each Toyota vehicle. You can have peace of mind knowing you are using parts engineered and designed specifically for your Toyota.
---
Manager's Special
Premium Windshield Washer Fluid
All season windshield washer fluid, made specifically for your Toyota and able to withstand temperatures as low as -40°C.
Special Offer
$5.49
plus tax
---
More About Toyota Genuine Parts
Toyota Genuine Motor Oil
---
Specially formulated and engineered for your vehicle, Toyota Genuine Motor Oil helps to protect your engine from energy loss, heat and wearing between contact surfaces that are caused by friction and high temperatures within your engine.
Toyota Genuine Synthetic Motor Oil
---
Toyota Genuine Synthetic Motor Oil is engineered specifically for your Toyota's engine, and blended with synthetic components that provide higher purity and quality than conventional oils.
Toyota Genuine Brake Pads
---
When you apply pressure to the brake pedal, the caliper clamps the brake pads against each side of the brake rotor, creating friction and slowing your vehicle down. Toyota Genuine Brake Pads have been custom designed and engineered for a perfect fit in your Toyota.
Toyota Conventional Wiper Blades
---
Designed using tensile strength steel and all natural rubber, the twin squeegee distributes wiper arm pressure evenly across the blade. Aerodynamic design contributes to a quiet, noise free ride.
For more information about Toyota Genuine Parts, please call us at 604-273-0305.
---
More About Toyota Genuine Accessories
Toyota Racing Development
---
Toyota's rich racing history is the inspiration behind the TRD line of accessories and performance products. When added to your Toyota they enhance performance, handling and style.
Toyota Genuine Dash Camera
---
The Toyota Genuine Dash Camera allows you to record video, audio and location data. The special video event recording modes capture and protect important videos, and footage which can be reviewed and saved to your smartphone or computer with the free app or accompanying software.
For more Toyota Genuine Accessories, please call us at 604-273-0305.
---
OpenRoad Tire Centre
Whether you need tires for the ski season or summer road trip or looking for tire care tips, our experience parts advisors are here to help. Our one-stop tire centre gives you a hassle free tire shopping experience as well as making sure your vehicle is safe. We provide competitive tire pricing, tire storage and installation services, and wheel alignment service.
Visit us or call us at 604-273-0305 about your tire needs.
---
Glass Repair Service
When your vehicle requires glass repair or replacement, simply let us know your needs. Our glass repair specialists at OpenRoad Auto Body will guide you through the ICBC claim. Our certified glass technicians will repair your glass at one of our repair facilities conveniently located in the Metro Vancouver.
For your glass repair inquires, please call our glass repair hotline at 604-984-2454.
---
Collision Repair
OpenRoad Richmond Auto Body is ICBC c.a.r. shop-accredited and CAA approved Auto Repair Service. Our manufacturer-certified technicians have been offering quality workmanship and attentive customer service for over 50 years. Our Toyota Certified Collision repair technicians are trained to restore each Toyota vehicle to meet the Toyota manufacturer standard. Toyota Genuine Parts are used to provide the same fit, function, safety, durability and structural integrity as when the vehicle was initially made.
For your collision repair inquiries, please contact us at 604-273-0305.
---
Contact Us
Our friendly and knowledgeable Parts Advisors are here for you and your Toyota, from accessories, tires, mechanical parts, windshields, collision and more. Please contact us at 604-273-0305.
Parts Hours
---
MON - FRI: 8:00 AM – 5:00 PM
SAT: 8:00 AM – 4:00 PM
SUN: CLOSED
Location
13100 Smallwood Place (Richmond Auto Mall)
Richmond BC, V6V 1W8
View Dealership